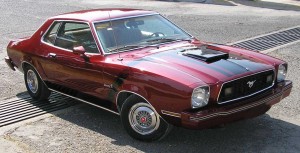 Ford Motor Company has been successful in creating a unique culture and following around the famous Mustang.  Throughout the years the Mustang has been through numerous changes both inside and out with various reactions to different models.  Ford calls the Mustang II an "Unsung Hero." The new 1974 design that some may say helped marked the end of the muscle-car glory days was actually a big seller.
While not the most popular of all the 'Stangs; 40 years later, Ford is celebrating the '70s version of this American Icon.  The 1974 design was a drastic change from the previous models. It was smaller, economic and a complete deviation from its well-known, hotrod roots.
Weighing in at 500 pounds less than it's predecessor and 19 inches shorter, the trimmed down version was actually a return the svelte roots of the original 1964-1966 models. The 1973 model had grown large and heavy to some earlier Mustang enthusiast.
Regardless of what people think of this car of yesteryear, the numbers speak volumes. Per a Wall Street Journal article, it outsold other Mustang models and kept the nameplate alive until it could be revived in the 1980s.
What do you think of this 'Stang of days gone by? Share your thoughts on our Facebook page.  To shop online for a new or pre-owned Ford Mustang, visit www.ReedHasIt.com!
Read the full Wall Street Journal story: http://blogs.wsj.com/speakeasy/2013/09/24/ford-touts-unloved-1974-mustang-ii-as-unsung-hero/