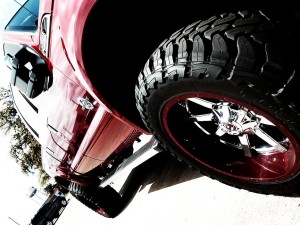 Thinking about upgrading your current ride? Let the one-stop customs and performance shop at RAD (Reed Auto Design) Rides build you the car you've been dreaming of! Whether you have Fiesta to the F-150 to the Focus and more, the world-class RAD Rides team has years of experience working with our comprehensive selection of after-market accessories. Specialty graphics, lift kits, air intakes, exhaust upgrades…if you can dream it, we can build it! From your fave Ford to any other make or model, you can find the best accessories and service for your vehicle at RAD Rides!
Get an inside look at these RAD-Rides!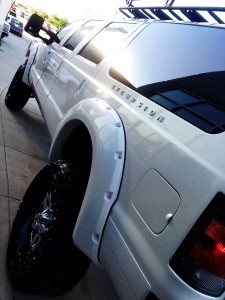 The RAD Rides team has the ability to take any make or model and create the one-of-a-kind custom car of your dreams. One of our latest creations was a Ford Excursion (featured above). A massive V8 engine is required for this heavy duty vehicle, supplying huge amounts of power and towing capacity accompanied by a spacious cabin. A close-cousin of Ford's Super Duty line, the Excursion is large and authoritative yet practical. With the enhancements that this Excursion has seen, you can add 'beautiful' to the long list of adjectives describing this full-sized sport utility vehicle.
The RAD Rides team has also recently worked on numerous pick-up trucks, including the ever-popular F-250 Super Duty. Like the Excursion, the F-250 Super Duty can be equipped to have a large passenger capacity along with one of the biggest towing capacities in its class. Upgrades like power running boards, towing kits, bedliners, wheels tires and more make the possibilities infinite with aftermarket accessories from RAD Rides.
Our highly-trained team of performance accessory specialists at RAD-Rides is ready to walk you through every element of the custom car creation process. Even if you are a "do-it-yourselfer," we offer all the parts and an extensive accessories selection — including audio upgrades and lighting upgrades — to help build you a perfect vehicle.
To see where you can find a RAD Ride at one of our top-notch dealerships near you, visit www.ReedHasIt.com! You can also browse our inventory online, or bring your own vehicle in to the closest dealership to get started on your custom creation!