Big news in the racing world and for Ford, as well.  Telca/TELMEX Chip Ganassi Racing with Felix Sabates (CGRFS), winner of seven out of the 10 GRAND-AM Rolex Sports Car Series Daytona Prototype Championships, has announced that they are switching to the the new Ford EcoBoost sports car engine package in 2014.
The announcement came earlier this week during a Ford press conference at the Specialty Equipment Market Association (SEMA) Show.
GGRFS has decided to utilize the Ford 3.5-liter V6 EcoBoost® racing engine for the 2014 TUDOR United SportsCar Championship (USCC), with Scott Pruett and Memo Rojas returning to pilot the team's Riley Daytona Prototype starting with January's Rolex 24 At Daytona race. Pruett and Rojas have 27 combined victories since 2007.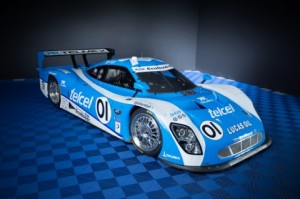 "We're excited about Chip Ganassi Racing choosing Ford EcoBoost power going forward in sports cars," according to Raj Nair, Ford group vice president, Global Product Development. "We believe they will be the perfect partner going forward to work with us to further develop the advantages of our EcoBoost engines."
Ford's EcoBoost brand has appeared on various race cars around the globe the past two seasons as part of a strategy to raise brand awareness of the growing Ford line of production engines — now available in 1.0-liter, 1.5-liter, 1.6-liter, 2.0-liter and 3.5-liter versions.
In September, Ford celebrated the building of its two millionth EcoBoost engine. Now, it is making versions of the award-winning powerplant, which is available in 90 percent of Ford vehicles.
Ganassi Racing has made their make and are some of the most well-known racing professionals today. They field six major entries across the IZOD IndyCar, NASCAR Sprint Cup and USCC race series.
"We are very excited to be switching to Ford power for our sports car program," said Chip Ganassi. "Over the last 10 seasons we have been able to experience a great deal of success in GRAND-AM and now with the dawn of the new United SportsCar Championship we feel that Ford power will be a key ingredient to writing the next chapter of our sports car program. I can't wait for the 24 hours of Daytona to get here."
Ford recently announced as part of its continuing strategy to introduce product-relevant technology into racing, the 3.5-liter V6 EcoBoost® racing engine would enter the 2014 TUDOR United SportsCar Championship series.Michael Shank Racing was the first team to sign up to campaign the engine, and MSR recently took the engine and the new-look Daytona Prototype car – created with Ford corporate design influence – to Daytona, where driver Colin Braun set a new closed course speed record of 222.971 mph, as well as FIA records for standing start 10-mile and 10-kilometer runs.
Revved up about the new EcoBoost, too?  We can help!  Shop our huge national selection of Fords, Lincolns and Volkswagens at www.ReedHasIt.com.